Preventice is now Boston Scientific Cardiac Diagnostics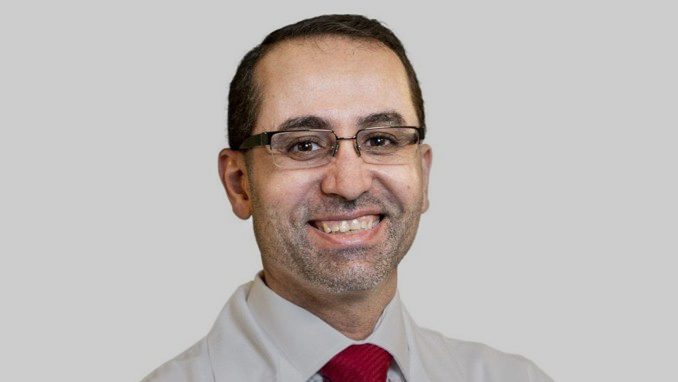 Ziad Issa, MD
PatientCare helps boost patient satisfaction
Ziad Issa, MD, executive director of cardiac electrophysiology at the Prairie Heart Institute of Illinois, talks about how monitoring the PatientCare platform helped Prairie Cardiovascular adapt their ambulatory monitoring for cardiac arrhythmias with PatientCare, before and during the COVID-19 pandemic. Designed for the BodyGuardian™ portfolio, PatientCare is a self-managed, cloud-based, HIPAA-compliant platform. PatientCare allows practices to independently gather, interpret, and manage near-real-time cardiac data efficiently.
Dr. Issa, who joined Prairie in 2005, has helped grow the electrophysiology program to 10 electrophysiologists and over 70 cardiologists who treat patients mostly in rural and suburban parts of central and southern Illinois.
Boston Scientific Cardiac Diagnostics: As COVID-19 continues to evolve, you're providing care with good data from afar, and that is immensely valuable. Looking ahead, how do you see the monitoring devices plus the software platform and analysis from a clinical, operational, and financial perspective?
Dr. Issa: From a financial standpoint, we quickly realized that implementing PatientCare creates a revenue generating department. PatientCare yields an average global reimbursement of $500 to $550 per study. For private insurance, the reimbursement range increases to between $1,000 and $2,000. That's a huge difference for our department; we used to be an overhead department, and now it's a revenue-generating department. The profit margin far exceeds any other department here. With PatientCare, we no longer must pay our vendor the majority of study reimbursements as professional and technical fees. Instead, we keep these fees. For example, when our technicians put the monitor on the patient, our department gets a technical fee between $30 and $50. And since our department easily creates the study reports using Boston Scientific Cardiac Diagnostics's user-friendly platform, we keep the majority of the study reimbursement.
The devices come with different types of patches to accommodate patients' preferences. Patients can wear the patches for five days without changing them. They can shower, swim, and sleep with them. Patients' satisfaction with the types of patches is very good. The patients also get a small smartphone. We will call the patient and make sure they have a Wi-Fi connection. If they don't, we give them a device with either AT&T or Sprint service. We have many patients in remote and rural areas, so we must accommodate them with the best service provider in their location.
Once the patient gets the device, we immediately make the test and it starts acquiring data. Notifications occur with no delay if there is an important event. Within minutes, the notification gets to a physician's desk during daytime hours or if there is an emergency at any hour. The physician is called and emailed a link to the data and to the rhythm strips. So, physicians don't have to log onto a computer or go to a fax or an email to receive their notification strip. And the physician will respond to that notification. Then once all the data is collected, our technicians will sort through the data and tabulate it in a meaningful way to generate a report. We have trained our technicians very well to ensure they include what matters to the EP (electrophysiology) physician. What do I want to see? And that's really proved to be very important for us.
Recently, I had a patient with a different company who had atrial fibrillation. He's so young and I was wondering if he had SVT (supraventricular tachycardia) first or a WPW (Wolff-Parkinson-White) abnormality that would trigger the atrial fibrillation. It's meaningful for us to distinguish between those. I'm trying to get the onset of the arrhythmia. And other remote monitor companies only provided a short snapshot of a few seconds to one minute of data that was not meaningful. For us, our technicians will know exactly what the physicians need. If certain patients need something different, we just email them, "Can you get me the onset of the arrhythmia or the offset of the arrhythmia?" Or we can log on and get to the raw data in our computer or our iPhone and get exactly to what we need to look for in those rhythm strips. Our physicians used to use the device for four weeks at a time.
Then we taught them to customize this to the needs of patients. So, if you're looking for certain symptoms and you have symptoms three or four times within a week, you may not need to extend the device. On the other hand, if you prescribe a device for two weeks and patients did not have symptoms you're looking for, you can extend that study without getting the device back and without having the patient come back for that service. So, it is a dynamic process. Initially, we started with 30 devices for our group. Over the last three years, we expanded our capacity due to increased demand. And now we have 500 devices that we use, and we still need 900 more because we have a wait time for devices. On average, we use a device twice a month because most of our patients get monitoring between one and three weeks. The monitoring duration varies by patient and if we get our answer back before the study ends, we just stop the study. 
Your PatientCare business model makes sense from many perspectives, including operations, control, partnership, and care delivery. Most importantly, implementing PatientCare created a revenue generating department for your practice. How would you summarize your experience?
Dr. Issa: Generating revenue allows your plans to go far when you present them to hospitals and administrators. Many times, that's what limits technology that improves patient service and satisfaction and physician and provider satisfaction. It usually comes at a price. Hospitals and healthcare systems are unwilling or unable to go that extra mile. However, when all this comes with a financial benefit to the system, that makes it easy to acquire and adopt.